Ralls County R-II School District would like to recognize our appreciation for all of our Paraprofessionals. We appreciate your dedication and service to our students!

This Week at Mark Twain 4/3-4/8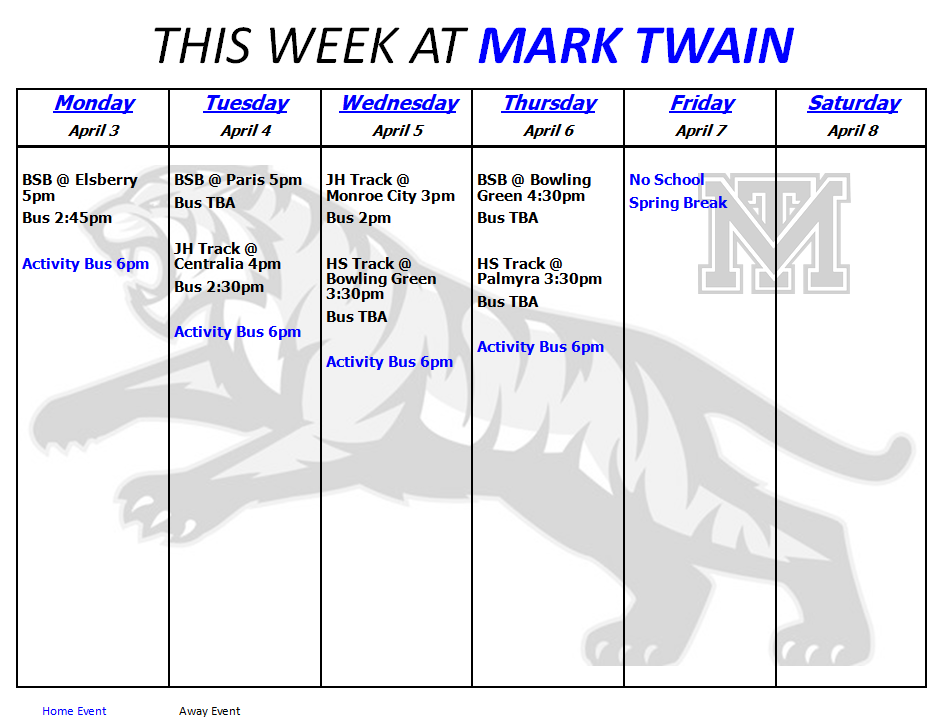 School is in session Monday-Thursday this week. No school Friday April 7th.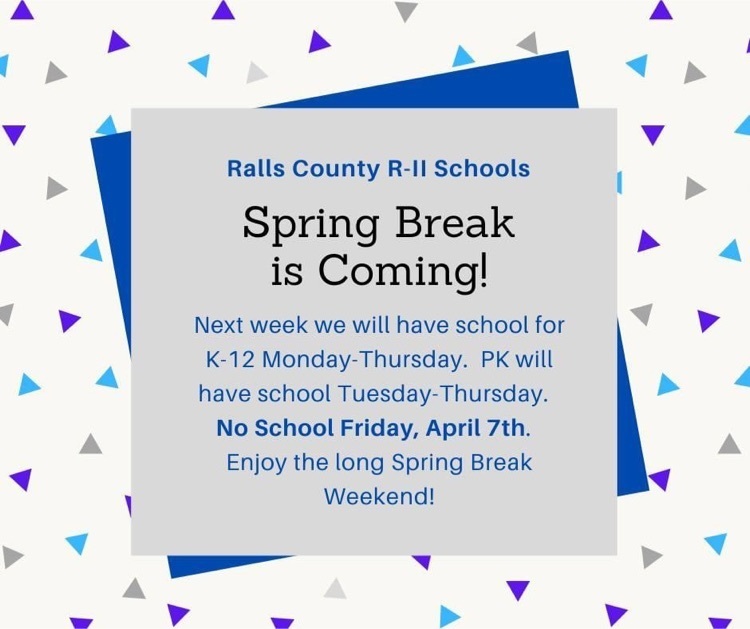 MTHS Drama Club Performance this evening is CANCELED. They will perform Saturday, April 1st at 6:00 p.m. in the MTHS Gym/Stage. $5 per person or a Family of 4+ is $15.

UPDATES FOR MARCH 31, 2023 There will be NO after school activities or practices today. There will be NO Activity Bus today. The Drama Club play for tonight as been CANCELLED. The play will go on as scheduled for tomorrow (4/1).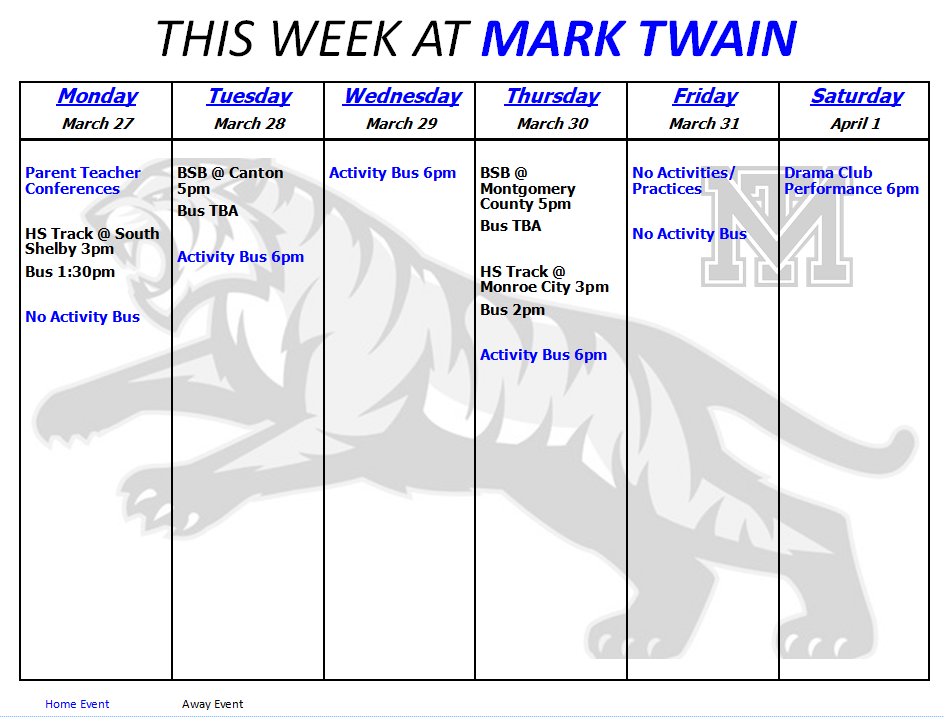 3/30 Events: HS Track @ Monroe City 3pm HS BSB @ Montgomery County 5pm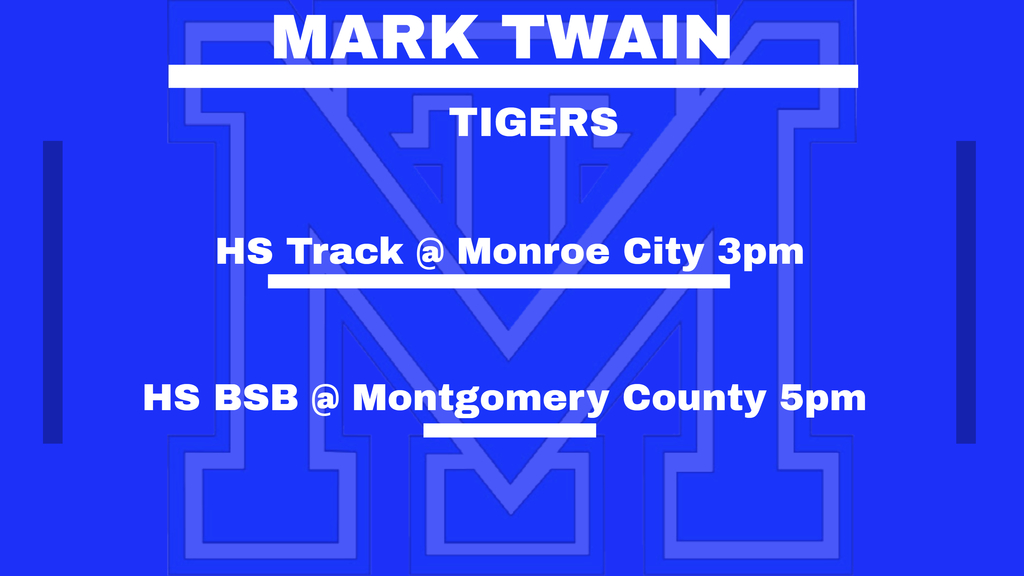 JV Baseball Schedule Update The JV baseball games scheduled for Saturday, 4/1, have been cancelled. We have added a JV baseball game vs Montgomery County on Tuesday, 5/2, at 5pm. The game will be played at Mark Twain.

This Week at Mark Twain 3/27-4/1

There will be NO activity bus on Monday, 3/27, due to Parent Teacher Conferences.

*Baseball Schedule Update* Baseball will take on Marion County at home on Friday, 4/21, at 5pm. This game is rescheduled from the original 3/17 game.

MARK TWAIN DRAMA CLUB PERFORMANCE We have almost one week until the Mark Twain Drama Club presents Trial of the Wicked Witch! We have 9 choir members that are part of the cast! Come out and support all of the hard work these students have put into this!! Come ready to laugh and help decide if the Witch has met her fate in court! March 31st - 6:00 p.m. April 1st - 6:00 p.m. Admission is $5 Family of 4+ is $15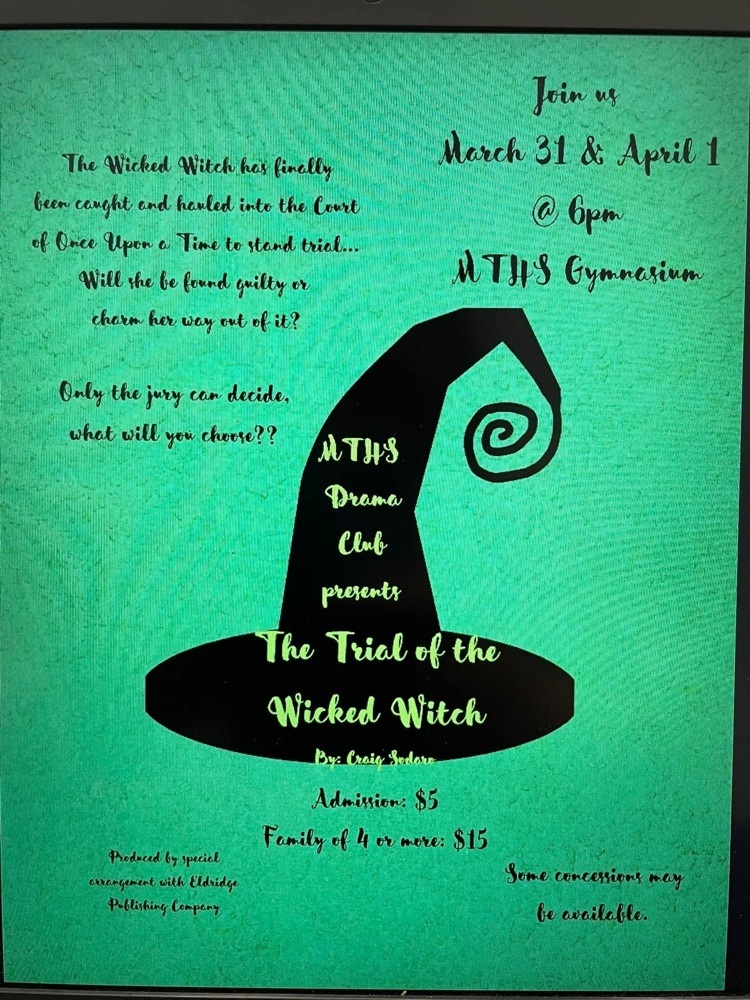 GAME DAY!!!! BSB will take on MMA at 5pm. It will be Varsity only. The game will be played at Hannibal. Address: 790 Veterans Rd, Hannibal, MO 63401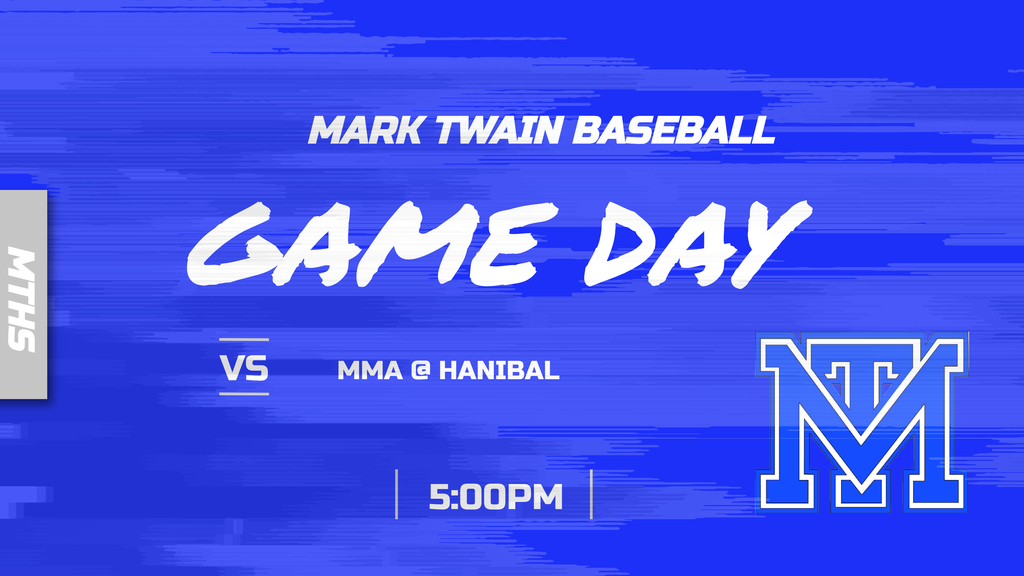 HS Track @ Westran 1:30pm BSB @ Moberly 5:30pm

Baseball Schedule Update: The baseball game at Moberly on Wednesday, 3/22, will now be V only due to Moberly playing a doubleheader. The game should begin between 5:30-6pm.

Congrats to Sam Northcutt for being selected to the 2023 Northeast Media All District Team!!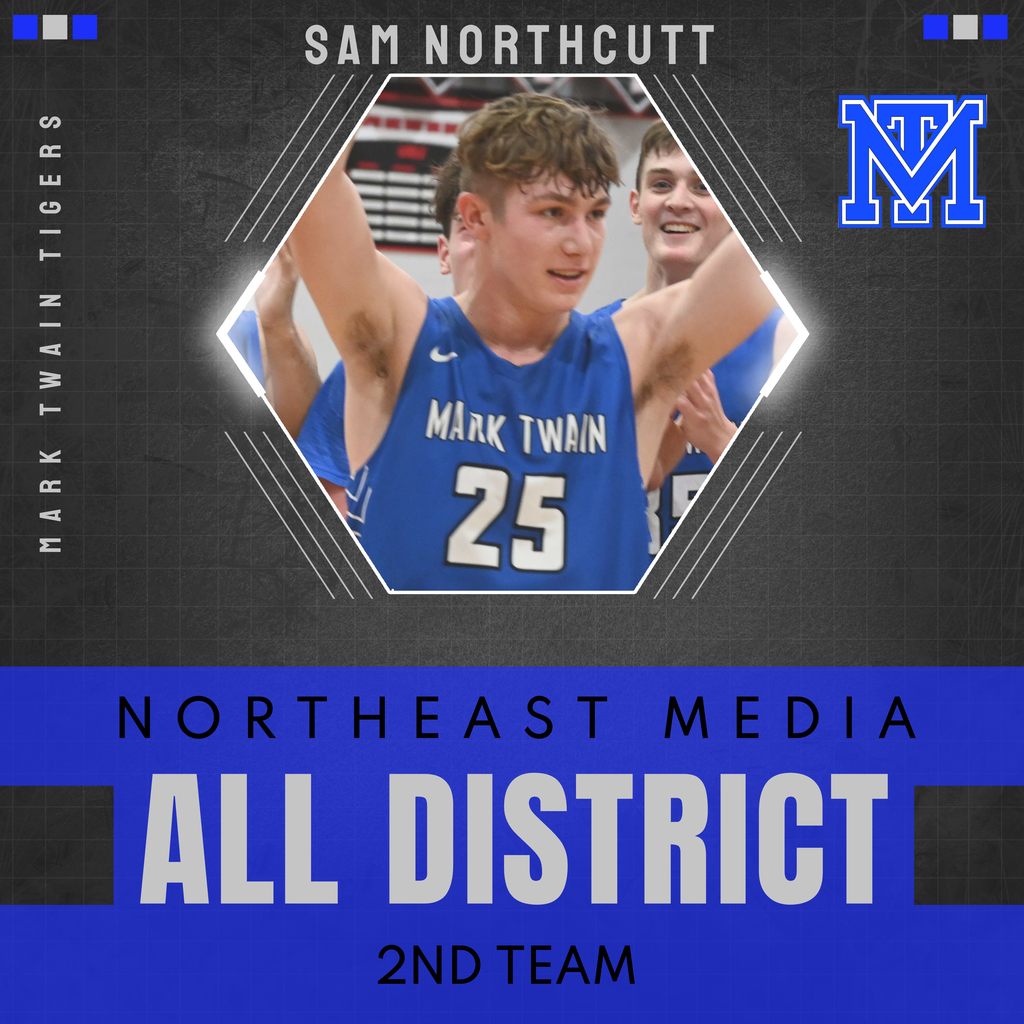 MEET DAY!! Track kicks off their season at Montgomery County!!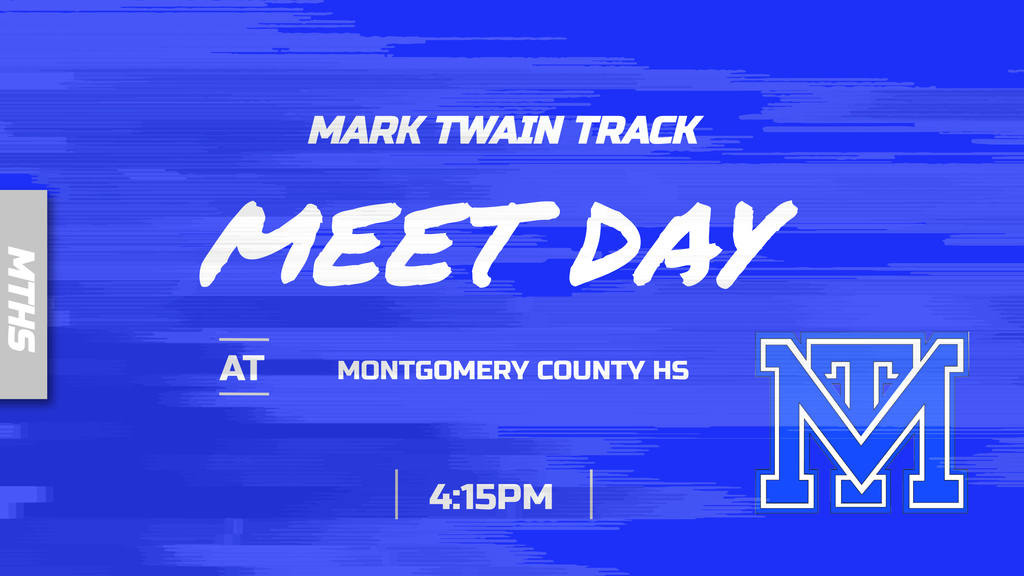 This Week at Mark Twain 3/20-3/25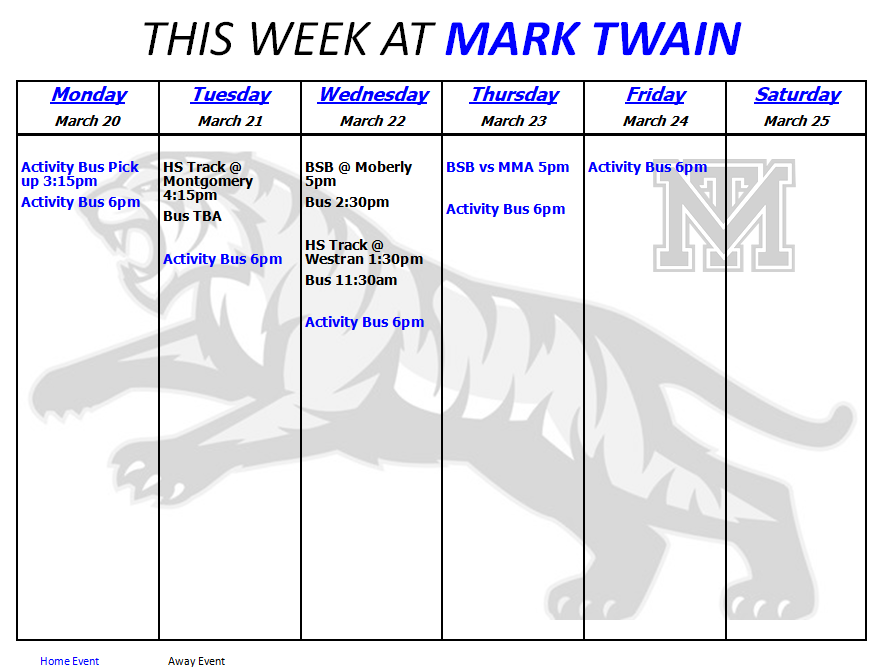 We are excited to announce, Mrs. Tricia Moore as our 2023-2024 Ralls County Elementary Intermediate Principal! She was selected as a finalist through a faculty committee interview. She was next selected for the position by the Ralls County Board of Education after a formal presentation and interview last Monday evening. She has officially signed the employment contract. Welcome Mrs. Moore!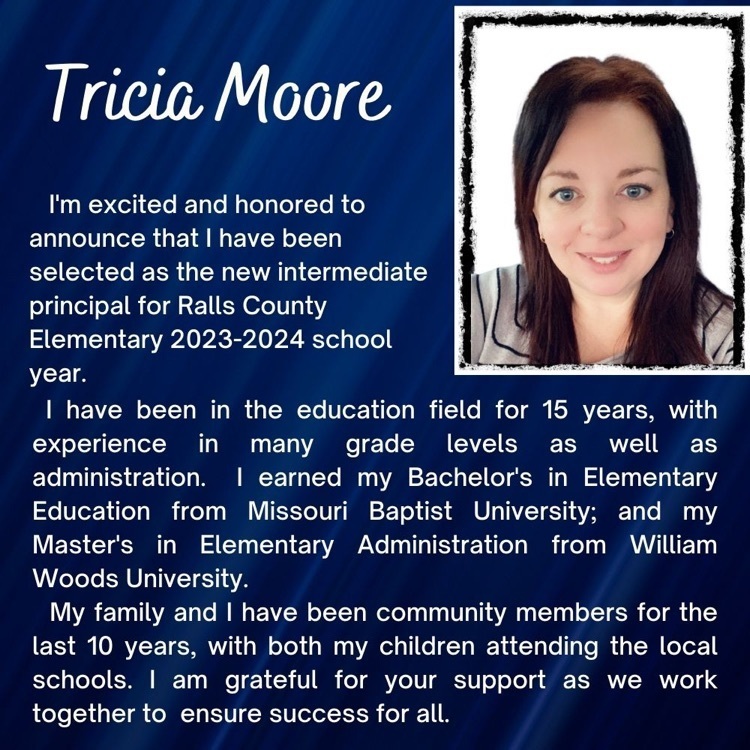 The baseball games today vs Marion County have been cancelled. Reschedule TBD

Class 3 District 6 Baseball